March Newsletter
Upcoming events and other Bike Easy news!
Become a Bike Easy Member!
The community support for better biking in Greater New Orleans is something to be proud of. Conditions for people on bikes have come a long way in recent years, and ridership has almost tripled since the early 2000's. These improvements only happened with the dedication of citizen advocates and Bike Easy Members. There is still a long way to go to ensure our streets are easy, safe, and fun for all people on bicycles, and we need you to get involved!
Support your community by becoming a Bike Easy Member today!
Register for the Bike Easy Challenge!
The Bike Easy Challenge is a fun, free competition for everyone in the region. Mark your calendars for the second run of our month-long regional biking challenge, April 1 – 30. Ride anywhere, anytime for just 10 minutes to participate.
Follow these four steps to get started:
Register at lovetoride.net/bikeeasy, it's free.
Ride a bike anywhere, anytime between April 1st and 30th.
Record your rides and tell your friends and coworkers about the Challenge
Reward yourself and your friends by winning prizes!
Congo Square New World Rhythms Festival
Mardi Gras Indians, African dance, brass bands, luscious jazz, soul-funk, Latin jazz and West African highlife – all these are in store for music fans at the 11th annual Congo Square Rhythms Festival, presented by the New Orleans Jazz & Heritage Foundation March 3-4 in Armstrong Park.
Bike Easy will have Bike Valet set up under the Louis Armstrong Park arch.  Ride your bike and enjoy the fest stress-free!
Audubon Park and Riverview (The Fly) Park Survey
The Audubon Park Master Plan survey wants you to voice your opinion on the future of Audubon Park!
Audubon Commission is working on a Master Plan intended to shape the Park's direction for the future and is actively seeking feedback to understand the needs of the diverse community that enjoys Audubon Park.  This is a great opportunity for our community to express concerns related to walking and bicycling issues such as general access, crossing Magazine Street, and improved Fly access. 
Public meetings will be held at the Audubon Tea Room March 6th and April 5th from 6-8pm for further discussion.
WALK

/

BIKE

/

PLACES

 Registration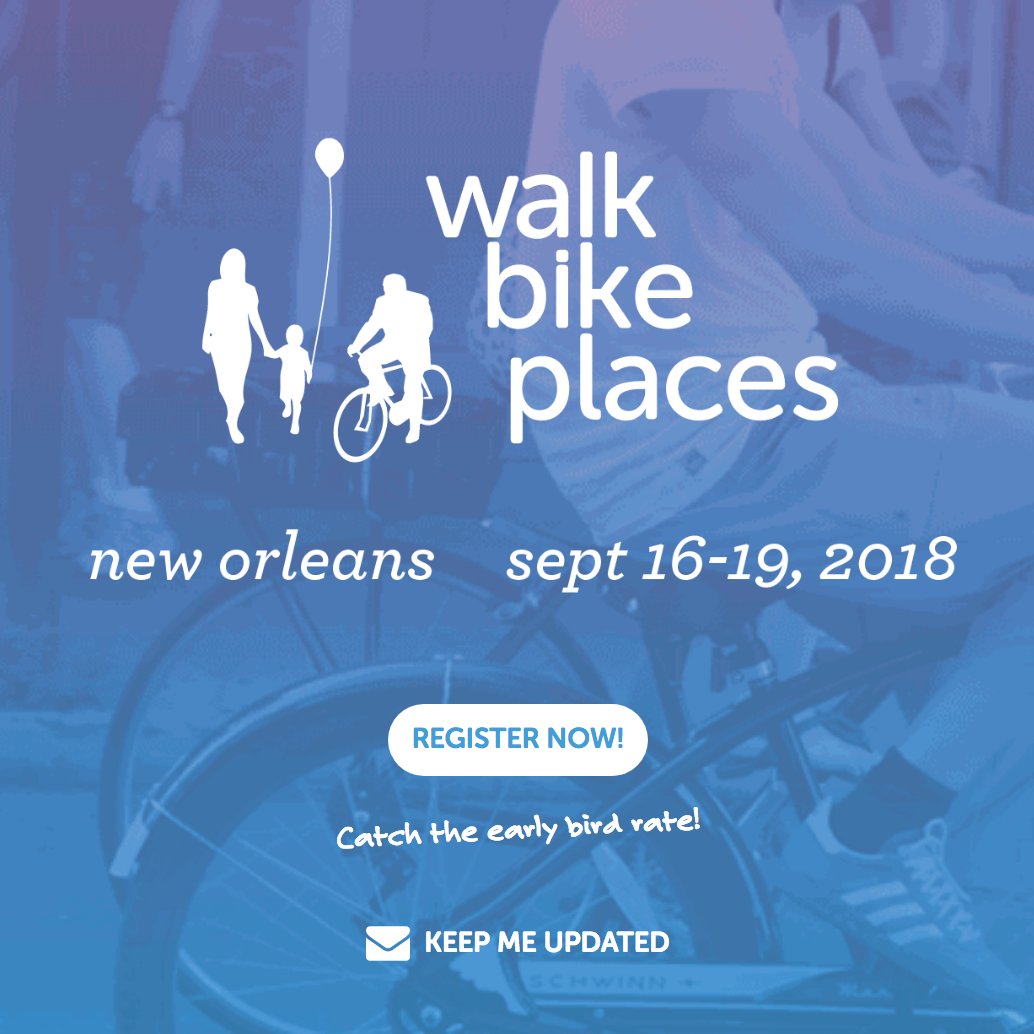 Early Registration for Walk/Bike/Places 2018 in New Orleans is now open!
Walk/Bike/Places will take place September 16-19 at the Downtown Sheraton in New Orleans, and will feature 3+ days of over 100 breakout sessions, poster displays, general sessions and of course, mobile workshops that will explore the city's rich historic and cultural landscape. 
Congratulations St. Bernard Parish!
St. Bernard Parish accepted a federal grant to build the 40 Arpent Trail!  Last year the Bikeway and Pedestrian Plan Update a bold vision for establishing a network of trails and bikeways to link together all communities in the Parish and link St. Bernard with its neighboring parishes.
The new grant will fund construction of a 10-foot wide asphalt multi-use path along the Forty Arpent Canal for approximately 8 miles from Arabi near Alexander Avenue to the Violet Canal.   The multi-use path will be designed for walkers, joggers, bicyclists, skaters, and other non-motorized users.  The project also includes two bicycle-pedestrian bridges across the canal at Val Riess Park and at De Bouchel Blvd.  
Read more about the Forty Arpent Trail!
Sponsor the Spring Bicycle Second Line
Sponsor the Spring Bicycle Second Line, a musical 10-mile bike ride version of the famous second line parades that traditionally wind through New Orleans streets during the year. 
For our Bicycle Second Line, we gather several hundred riders of all ages, interests, and backgrounds and roll through our beautiful New Orleans neighborhoods while brass bands set the tempo.
This event is a high-profile, earned media grabbing extravaganza. Putting your logo and branding next to ours demonstrates your commitment to healthier, safer, more equitable communities and puts you in touch with our diverse and ever-growing circle of supporters. Contact .(JavaScript must be enabled to view this email address) for more information about sponsoring the spring Bicycle Second Line.
Partner Spotlight: Whole Foods Market
Whole Foods team members are part of the local community and are passionate about supporting the local causes that are important to shoppers and neighbors.
Whole Foods stores have a lot of latitude in deciding the best way to operate each store to meet the needs of the community. The Greater New Orleans Whole Foods Market sponsors events like the Bike to Work Day and '5% Day' which helped Bike Easy raise $14,980 in September!
Volunteer Opportunities
Volunteers often tell us how much fun it is to come out to help at Bike Easy events and how gratifying it is to see the tangible impacts their time and energy can have on Bike Easy and bicycling.
Volunteers are needed for a variety of tasks and events such as:  
Drop-in volunteer night
Bike Easy Challenge/Bike to Work Day
Bicycle Second Line Planning
Bike Valet
Find more information about these opportunities in our blog post.
Better Bike Share Partnership Grant
Bike Easy has just been announced as a recipient of the Better Bike Share Partnership Challenge Grant! This program is all about funding strategies to tackle barriers to equitable use of bike share while increasing ridership.
Blue Bikes can offer a unique opportunity to correct deep-rooted, historical inequities by providing an affordable, accessible way to commute to the city's working-class populations and communities of color. Bike Easy will be implementing 'Blue Bikes for All New Orleanians,' an outreach program focused on overcoming long-lasting racial and class divides in New Orleans, by making sure New Orleanians know how to take advantage and seize this opportunity.
Bike Easy YouTube Channel
Subscribe to our YouTube channel!
You'll find highlights from our Health Equity Report release and portraits of New Orleanians on bike. Take a ride with John Mack his home to the Gretna ferry, a ride he often took in his youth, as he discusses his work with Bike Easy to make Jefferson Parish safer and more accessible for bike riders today and in the years to come.